November 11–12, 2022
OpenStreetMap US and WikiConference North America are teaming up to host the second annual Mapping USA: a free virtual conference in celebration of the Wiki and OpenStreetMap communities across the continent.
Join us for a Mappy Hour on Thursday, a half day of talks on Friday, and a day of workshops, birds of a feather sessions, editing parties, and mapathons on Saturday. Live audio translation between English and Spanish will be provided for all Friday talks.
Like the program? Consider becoming a member or donating to OpenStreetMap US. We rely on donations to continue our mission to support and grow the mapping community.
Sponsorship
OpenStreetMap US relies on sponsors to help keep our online events free. Is your organization interested in sponsoring a future event? Get in touch with us at events@openstreetmap.us.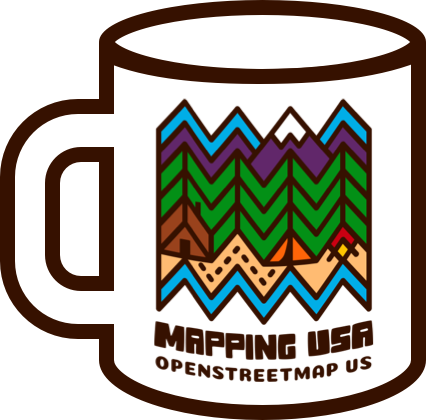 Swag
Limited-edition shirts, sweatshirts, mugs, pillows, and more featuring our new logo are now available to order on our swag shop.
Local Chapters Congress
The Local Chapters & Communities Congress will take place on Saturday, November 12. Register to join the global conversation about building local OpenStreetMap communities.
More information
You can find more details on the OpenStreetMap Wiki, where you can also plan in-person meetups.
Follow @OpenStreetMapUS and the #MappingUSA tag on Twitter for the latest updates.
Conference program
Times below are given in Eastern Standard Time. Full talk descriptions are available here.
Thursday, November 10

Time
Session
8:00 pm ET
Mappy Hour
Join us for a casual hour of networking and socializing.
9:00pm ET
End of Thursday
Friday, November 11

Time
Session

2:00 pm ET

Welcome to WikiConference NorthAmerica + Mapping USA
Opening Keynote: The Case for Sister Projects
Minh Nguyễn

2:25 pm ET

Break

2:30 pm ET

At 18 years old, is OSM entering adulthood?
Jennings Anderson & Martijn van Exel
Linking Wikimedia and OpenStreetMap/OpenHistoricalMap
Richard Welty
Mapping the Virtual Border Wall with Public Records, Satellite Imagery, and Virtual Reality
Dave Maass

3:00 pm ET

Break

3:15 pm ET

Public Domain Map
Quincy Morgan
Tips & Tricks for the Programs & Events Dashboard
Sage Ross, LiAnna Davis
Mall Mapping with Every Door
Martijn van Exel
Diversifying Wikipedia's biographies
Ian Ramjohn
Sound Logo
Rae Adimer
Building OSM Into the Elementary Classroom
Mike Jabot

3:45 pm ET

Break

4:00 pm ET

OSM US Trails Initiative
Jake Low
Data Modeling the Person
Lloyd Alimboyao Sy
You can help us fix it: Learning new skills at the Philadelphia WikiSalon
Mary Mark Ockerbloom, Co-facilitator; Wikipedian in Residence, Annual Reviews and Doreva Belfiore, Co-facilitator, The Philadelphia WikiSalon
Utilizing Open-Source Software Tools in Evaluating Transportation Equity and Accessibility to Pediatric Vaccination Centers in 14 Ohio Counties
Ahmad Ilderim Tokey
Fostering open knowledge by providing effective support to volunteers - an introduction to Wikimedia Foundation's Committee Support Team
Xeno (WMF) [Jack Glover]
Tools for linking Wikidata and OpenStreetMap
Edward Betts

4:30 pm ET

Break

4:40 pm ET

Come Here or Go Away?: Identifying Challenges to Scholarly Wikipedia Editing
Savannah Cragin, Dr. Jennifer Johnson
Parks, Spawns, Nests and Pikachu: OpenStreetMap and Pokemon GO players
Christopher Greene-Szmadzinski
Print an OSM Extract: Trailheads maps from OpenStreetMap
Rob Chohan
Collaborative Corridors to Address OSM Underrepresentation
Bill Wetherholt

5:20 pm ET

Break

5:30 pm ET

Wikimedia New York City, Sure We Can
Wil540 art
Magic Wand: A Plugin for JOSM
Junior Flores
Swiping into a love of OSM
Dan Joseph
WikiCred 2022 Grant Cycle Overview
Ariel Cetrone (WMDC)
Future of North American Wikimedia affiliates
Peter B Meyer

6:00 pm ET

Closing Remarks
Announcements from OpenStreetMap US & WikConference North America

6:15pm ET

Open socializing
Use this time to socialize virtually, ask questions of speakers.

7:00pm ET

End of Friday
Saturday, November 12

Time
Track 1
Track 2
Track 3
Track 4
11:30 am ET
Better tagging, better bike lanes, better cities
Facilitator: Taylor Reich
Atlas of Surveillance: Building a crowdsource map of police technology
Facilitators: Dave Maass, Beryl Lipton, Paul Tepper
Tool Time
Demos + Q&A for software including:
Monitoring the features you care about with OSMCha
Wille Marcel
Mikro: Sustainable Approach to Community Mapping
Chad Blevins
Working with Daylight Open Data on AWS
Mike Jeffe & Jennings Anderson
Transforming Visual Data into Meaningful Maps with RoadBotics by Michelin
Sam Stephan, Lisa McCune-Noll
US Mapillary Missions United States Edition
Albert Gonzalo Bautista
Making street-level imagery available as open data with Mapillary
Albert Gonzalo Bautista
OSM-Seed for packaging the key tools from OSM ecosystem
Ruben Lopez Mendoza
Wikimedia Indiana: A New User Group Rooted in Cultural Heritage
Facilitators: Dominic Byrd-McDevitt, Jere Odell, Jamie Flood
12:00 pm ET
View it! tool: utilizing Structured Data on Commons for image discovery
View it! team
1:00 pm ET
Tagging Party
Facilitator: Minh Nguyễn
Wikimedia sued the National Security Agency for mass surveillance. Now what?
Presenter: Kate Ruane
100 Caribbean Leaders on Wikidata: Launching WikiCari's newest project
Presenters: Ian Ramjohn, Sherry Antoine
OSM Education Birds of a feather
Facilitator: Steven Johnson (TeachOSM)
1:45 pm ET
Reclaiming the right to privacy with grassroots tactics
Panelists: Franziska Putz (WMF), Micah Epstein (Coveillance), Lia Holland (Fight for the Future), TBC (ACLU or AmnestyTech). Moderator: Franziska Putz
Automatic citations in Wikipedia: how they work and how to fix them
Presenters: Diego de la Hera, Evelin Heidel (WMUY), Gimena Del Río Riande (CONICET), Nidia Hernández (CONICET), Romina De León (CONICET), Dennis Tobar (WMCL)
2:30 pm ET
Catskill Park, NY forest landcover mapathon
Facilitator: Attila Kun
Digital platforms as repositories of shared knowledge about conflict
Facilitator: Valentina Vera-Quiroz
How Wiki Education supports 12,000 new editors a year
Facilitators: LiAnna Davis, Helaine Blumenthal, Ian Ramjohn
Wiki99 and the global canon
Facilitator: Lane Rasberry
3:15 pm ET
Tools for linking Wikidata and OpenStreetMap
Edward Betts
Wikifunctions - a new Wikimedia project
Facilitator: Denny Vrandečić
WW, WWWWW (Wikiproject Witches, Who, What, When, Where, Why) & A Woman of the Century
Presenter/Facilitator: Rosie Stephenson-Goodknight
4:00 pm ET
Wikidata's tenth birthday
Facilitator: Peter Meyer
5:00 pm ET
End of Saturday